Central Venous Catheter which is also known as Central Venous Catheter is a thin, flexible tube that is inserted into a vein, usually below the right collarbone, and guided into a large vein above the right side of the heart called the superior vena cava.
Central Venous Catheter is used to give intravenous fluids, blood transfusions, chemotherapy, and other drugs. It is also used for taking blood samples and may stay in place for weeks or months ad helps avoid the need for repeated needle sticks.
Using a real-time ultrasound device in CVC is as important as confirming the correct needle, wire, and catheter position in the vein.
Which Ultrasound Scanner is best for Central Venous Catheter placement?
The Wi-Fi Double Head Ultrasound Scanner Mini Linear, Convex MLCCD-3.1 is highly suggested to our anaesthesiologist and Clinical Nurse Specialist clients. In which, the Mini Linear probe helps to check the malposition of the guidewire, and the Convex probe is used to confirm the position of CVC.
Ultrasound Guidance provides direct visualization of needle puncture through the skin into the vein.
USG guidance can be used for tracing both guidewire and catheter during the procedure to prevent malpositioning of the catheter, thus when done at the right time can prevent complication related to malpositioning and repeated manipulations.
Static and real-time US can be used to visualize the anatomy and patency of the target vein in a short-axis and a long-axis view.
Selecting the appropriate transducer frequency (3.5 – 10 MHz) is vital for obtaining high-quality images; high-frequency provides better resolution of the tissues lying close to the skin surface, which is ideal for vessel visualization.
Superior image quality—US-guided access—allow identifying vessel location, optimal puncture site, and anatomic variants. To a large extent, this helps to avoid venous thrombosis, among other complications.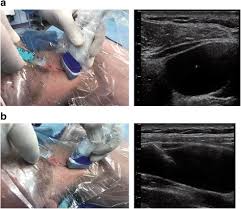 References: Central Venous Catheter, CVC,