Color Doppler Convex Ultrasound Scanner 2-5 MHz USB-C2CD
May 30, 2019
Color Doppler Transvaginal USB Ultrasound Scanner 4-9 MHz
May 30, 2019
Micro-Convex Color Doppler USB Probe 2-5MHz
$3,400.00
Superior Image Quality
Wireless Freedom
Works on iOS and Android
Approvals : CE, ISO
| Free Express Shipping | Worldwide |
| --- | --- |
| Warranty | 15 Months |
| Return Policy | 7 Days |
Share
Description


Micro-Convex Color Probe with 8" Full-Touch Screen , 2-5MHz, SONOSIF offers a great image quality for all applications in daily practice. Abdominal imaging and basic cardio imaging in dogs and cats. This is the main probe that is used for small animal abdominal scanning.
Moreover, Micro-Convex Color Probe with 8" Full-Touch Screen , 2-5MHz, SONOSIF has a smaller footprint provides improved surface contact, resulting in great image quality. Imaging through small rib spaces and underneath the costal arch is also easier.

Features :
Pocket medical smart ultrasound scanner with high speed cellular and Wifi data communication capability.
Micro-Convex Color Probe with 8" Full-Touch Screen , 2-5MHz, SONOSIF
Clear and rapid imaging for intervention guidance.
Special designed full touch UI for each individual application and easy to operation without special training.
Automatically syncing data to private cloud for telemedicine and mobile telemedicine .
Android sw operation system to make the applications easy for extendable.
Enables ultrasound whenever and wherever necessary.
Detect pericardial effusion , chest fluid or internal bleeding at ER or in ambulance.
View fetus as they grow.
Detect fetal heart beats.
Monitor the amount of Amniotic fluid during delivery.
Find plaque in Carotid, avoid stroke before it strikes.
Place lines in veins with visual confidence.
Find nodules in thyroids, liver or breasts during screening.
Monitor stones in kidneys, gall bladder and bladders.
Verify bone fractures without X-ray.
    Specifications :
CPU: 1.2GHz Quad-core Cotex A9.
OS: Android 4.3.
Touch screen: Capacitive TP.
Cellular Network: Optional (3G/4G).
Connectivity: BT 3.0 EDR, WiFi & WAPI, GPS&AGPS.
Radio: Stereo FM radio.
Sensor: Accelerometer, P/L sensor, E-compass, Gyroscope.
Keypad: Power, Freeze and Gain +/-.
Battery: 5000mAh, up to 3 hours ultrasound continuous scans.
Dimension: 158mmx84mmx20mm.
Product Description: Color Handheld Ultrasound Scanner.
Monitor: 8 inches LCD High-resolution (1280*720) Full touch screen.
Probe Type: 128 Elements (changeable).
Frequency: 2-5 Mhz .
Displaying Mode: B, C, M, B+B, B+M.
Cine-loop: 1024 Frames.
Frame Rate: Convex: <= 16fps / Linear: 24fps.
Depth:  <= 200mm .
Connection Interface: Micro USB2.0,HDMI, 3.5mm Headphone jack,Probe connector.
Gain: Convex: 0~150dB / Linear: 0~120dB  (adjustable).
Image Processing: Line smoothing, Frame smoothing, Transversal filter, Longitudinal filter, Sharpening, Gamma transformation, etc .
Power: Built-in battery(5400mAh) to support 2h of continuous scanning.
Image Format: JPEG , DICOM.
Language: Over 60 different language including English, Spanish, etc .
Measurement: Length, Area, Arrow, Angle, Perimeter, Text .
Camera: Front camera: 2M auto / Rear camera:5M auto focus.
Wireless connection: WIFI, BLUETOOTH, 3G/4G,(LTE/WCDMA/EDGE/GPRS/GSM).
 Memory: 64 GB.
Operating system: Android.
Printer: WIFI printer.
Cloud: Cloud image storage, cloud file management, standard API & SDK interface, Information sharing platform.
Technical Training: Online and offline tutorial, self-built online training material.
 Remote Software Update: YES.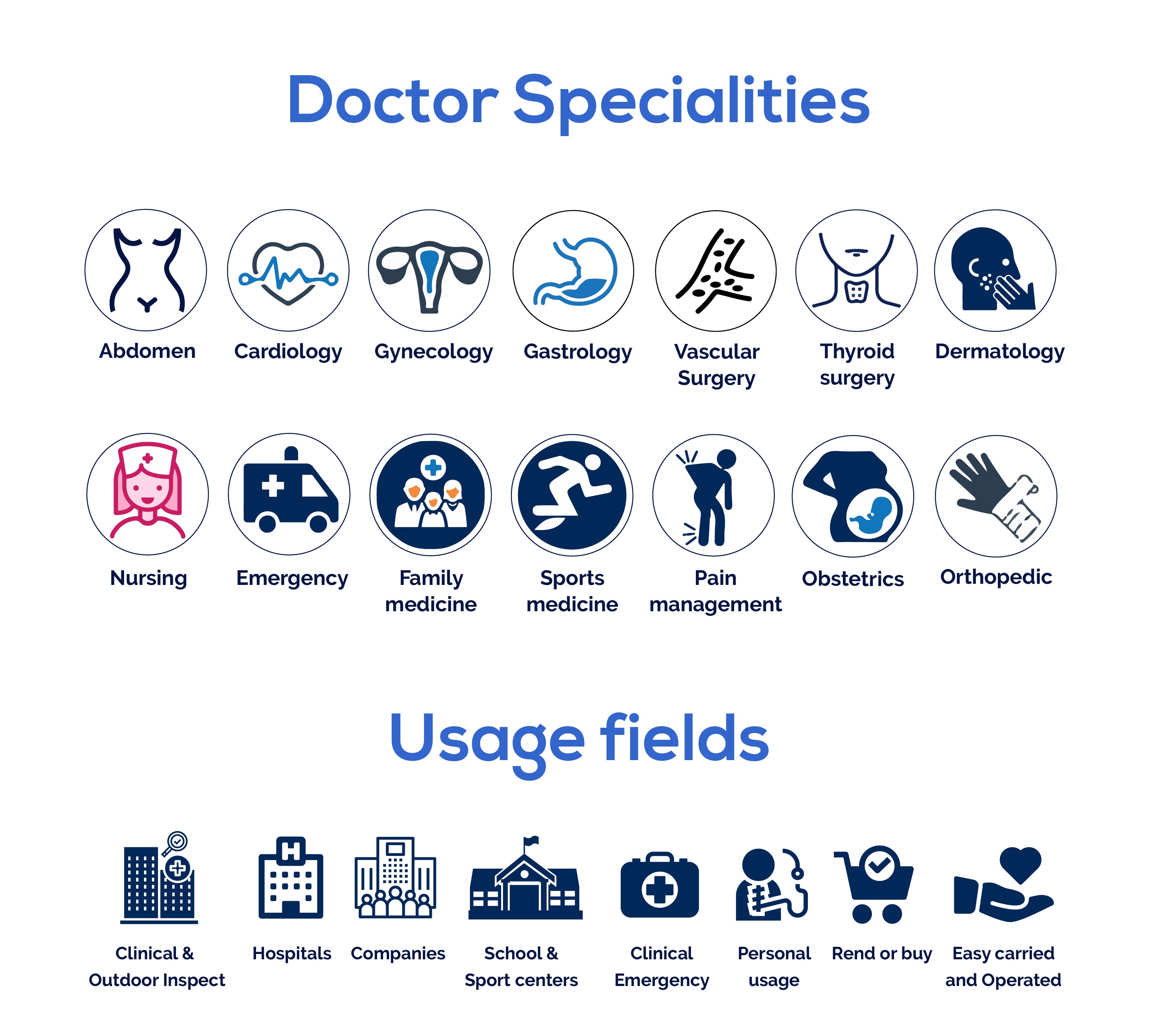 Additional information
| | |
| --- | --- |
| Head Type | Micro Convex probe |
| Screen mode | B, C, M, B+B, B+M. |
| Frequency | 2-5MHz |
| Elements | 128 E |
| Depth | <= 200mm |
| Applications | PICC Line Insertion, Thyroid, Breast, Vascular, Nerve, MSK (Musculoskeletal), IV intraveineous injection and plastic surgery, Joint Injections |
Free Express Shipping Worldwide
Returns Policy
Returns Policy
>> Returns :
You have 7 calendar days to return an item from the date you received it.
To be eligible for a return, your item must be unused and in the same condition that you received it.
Your item must be in the original packaging.
Your item needs to have the receipt or proof of purchase.
Warranty
Warranty
Our Warranty covers defects in material, defects in workmanship under normal condition of use.
The product must be in its original packaging. Customer needs to ask for a Return Merchant Authorization (RMA) stating the exact technical issue and under which condition it did happen. Any documents or accessories that shipped with the product must be included in the package. Customer returns the package at his charge.
The company will repair the product, at no cost, once technical department confirms the defect happens under normal condition of use.  The company will repair any broken parts of a product using new or replacement parts. The product can be exchanged with a new product. The company ships back the fixed or new item for Free, back to customer.
The Warranty Period for Physical Goods is 15 Months from the date of purchase.
> Warranty does not cover :
Damage of a product resulting from:
– Negligence
– Unauthorized modification of the product
– Natural disaster
– Theft or loss of the product
Product Attachment
Please Login To Download Attachment