Wireless Convex and Linear Double Head Ultrasound Scanner CL
May 27, 2019
Wireless Convex Ultrasound Scanner C3
May 27, 2019
Multi head Ultrasound Scanner Wireless Pocket Ultrasound MH1
$4,000.00
Superior Image Quality
Wireless Freedom
Works on iOS and Android
Approvals : FDA, CE, ISO
| Free Express Shipping | Worldwide |
| --- | --- |
| Warranty | 15 Months |
| Return Policy | 7 Days |
Share
Description
       Multi-Head Ultrasound Scanner MH1:
The Multi-Head Ultrasound Scanner MH1 is the go to device for many doctors from different specialities, ranging from gynecology, obsetetrics to pain management and physical therapy … Thank to its Multi Head Features, this device offers 2 Convex Probe, 2 Linear Probes, 1 Micro Convex Probe and 1 Transvaginal Probe.
       Features:
Operation : WiFI-Connectable To Any Android or Windows System XP. 7. 8. 10.
Pre-processing: Cloud processing Technology/ Fine Blood Flow Imaging.
Post-Processing: Image enhancement Gray map Pseudo color map Left/right reverse Up/down reverse Function
B Mode: Distance, Angle, Area, Volume, Trace Length, Distance Ratio, Area Ratio, Histogram.
M Mode: Distance, Time, Slope, Heart Rate.
Color/ Power/ PW mode: D Velocity, D Trace, PS/ED.
Applicable On: Abdomen, Small Body Parts, Vascular, Obstetrics, Gynecology, Cardiology, Neurology, Urology, Orthopedics, Anesthesia…
Zoom : Up to x*10 Times.

       Specifications:
Platform: Android, Windows.
Modes: B, B&M, 2B, 4B.
Gray level: 256.
Transducer Frequency : 2-11MHz Linear – Convex 64 Elements – 128 Elements.
Depth: 40mm ~ 200 mm.
Max Scanning Depth: 310mm.
Cine-Loop: Based On The Memory Of The Android or Windows device.
Power Supply : 12V 1.5A.
Battery Life: 6-8 Hours.
Net Weight: About 365g.
Waterproof Level: Ipx6 Multiple Frequency Probes.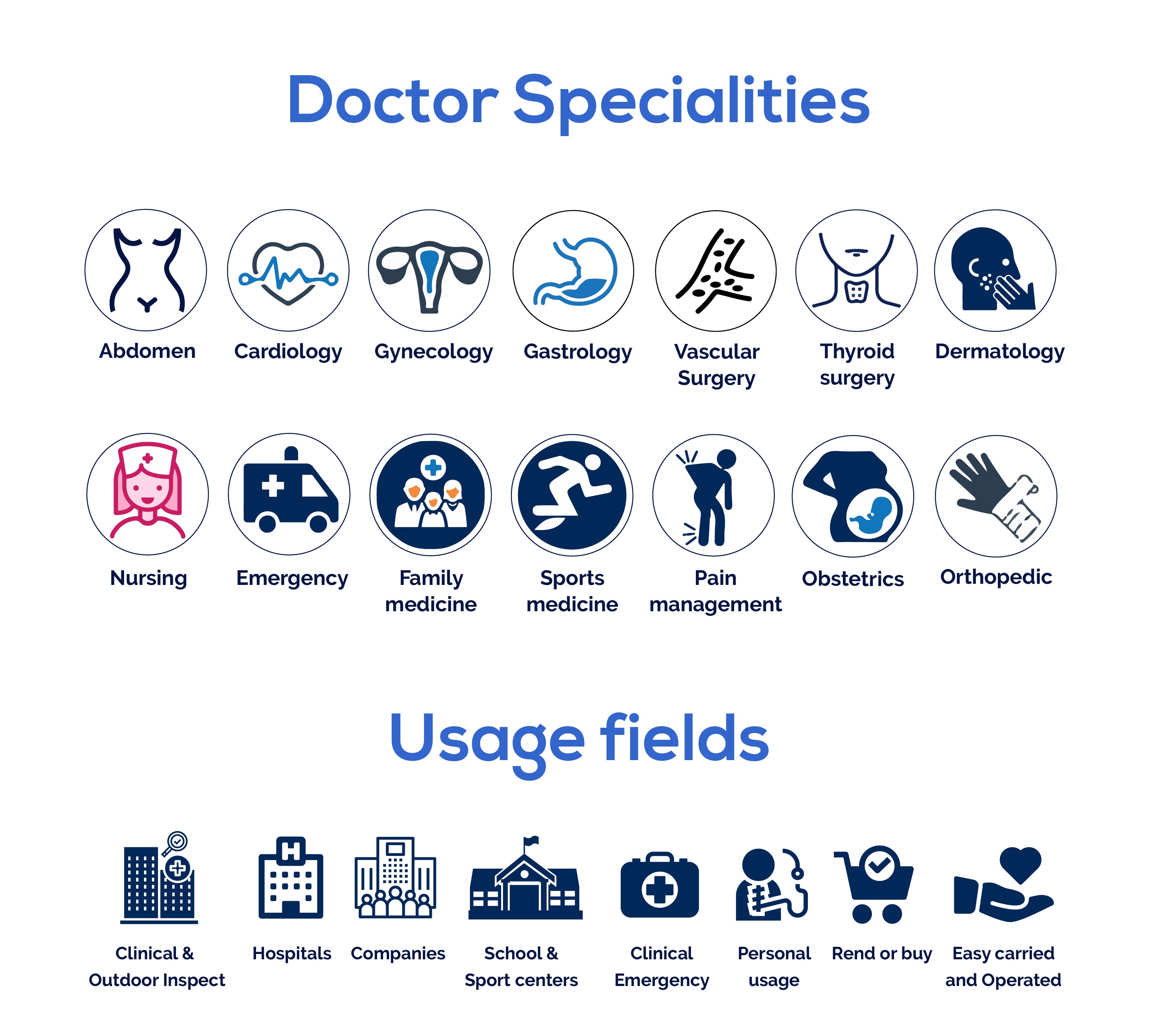 Additional information
Head Type

Multi Head

Screen mode

B, B&M, 2B, 4B, THI, Color, Power, PW

Frequency

1. Convex – 3.2 MHZ R50
2. Convex – 3.3 MHz R50
3. Linear – 7.5 MHz L40
4. Micro Convex – 6.5 MHz R15
5. Linear – 7.5 MHz L25
6. Transvaginal – 6.5 MHz R10

Elements

128 E

Depth

Convex Side : 100mm ~ 200mm, Adjustable.
Linear Side : 40~100mm.

Applications

PICC Line Insertion, Thyroid, Breast, Vascular, Nerve, MSK (Musculoskeletal), IV intraveineous injection and plastic surgery, Joint Injections
Free Express Shipping Worldwide
Returns Policy
Returns Policy
>> Returns :
You have 7 calendar days to return an item from the date you received it.
To be eligible for a return, your item must be unused and in the same condition that you received it.
Your item must be in the original packaging.
Your item needs to have the receipt or proof of purchase.
Warranty
Warranty
Our Warranty covers defects in material, defects in workmanship under normal condition of use.
The product must be in its original packaging. Customer needs to ask for a Return Merchant Authorization (RMA) stating the exact technical issue and under which condition it did happen. Any documents or accessories that shipped with the product must be included in the package. Customer returns the package at his charge.
The company will repair the product, at no cost, once technical department confirms the defect happens under normal condition of use.  The company will repair any broken parts of a product using new or replacement parts. The product can be exchanged with a new product. The company ships back the fixed or new item for Free, back to customer.
The Warranty Period for Physical Goods is 15 Months from the date of purchase.
> Warranty does not cover :
Damage of a product resulting from:
– Negligence
– Unauthorized modification of the product
– Natural disaster
– Theft or loss of the product
Product Attachment
Please Login To Download Attachment