Wireless Color Doppler Linear Ultrasound Scanner L6CD
May 31, 2019
Pachymetry Scan Ophthalmic Color Ultrasound Scanner Opthta3-CD
May 31, 2019
Portable Color Ultrasound Scanner, Ophthalmic A-Scan/ Pachymeter Opthta4-CD
$4,000.00
Touch Screen Input, Easy Operation
Built-in Speed Thermal printer
Curve Freezing : Manual/Auto mode
Approvals : CE, ISO
| Free Express Shipping | Worldwide |
| --- | --- |
| Warranty | 15 Months |
| Return Policy | 7 Days |
Share
Description
Portable Color Ultrasound Scanner, Ophthalmic A-Scan/ Pachymeter Opthta4-CD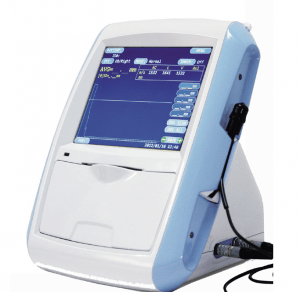 Ultrasonic pachymeters (or pachometers) allow the surgeon or ophthalmologist to measure the thickness of the cornea in patients with glaucoma, suspected hypertension or those considering refractive surgery. One primary advantage of Color Ultrasound Scanner, Ophthalmic A-Scan/ Pachymeter Opthta4-CD is how cost-effective it is. In addition, Color Doppler Ultrasound Scanner, Ophthalmic Opthta4-CD has macular recognition function, can accurately measure axial length, anterior chamber depth, lens thickness, as well as intra-ocular lens calculation.
A-scan Ultrasound biometry, also referred to as just A-scan, for diagnostic testing in Opthalmology practices. This device can determine the length of the eye and can be useful in diagnosing common sight disorders. A-scans are also extremely beneficial in cataract surgeries, as they enable the Opthalmologist to determine the power of the intraocular lens (IOL) needed for the artificial implant. Another use for A-scans is diagnosing and measuring masses in the eyes.
       Features of the Color Doppler Ultrasound Scanner, Ophthalmic Opthta4-CD:
Compact Body, Light Weight.
Friendly LCD Touch Screen.
Contact and Immersion Modes.
Multiple IOL Power Calculation.
Build-in Thermal Printer.
Capable of Connecting to PC.
Optional Workstation on PC.         
      Specifications :
Large color liquid-crystal screen
Touch screen input, easy operation
Curve freezing: Manual/Auto mode, controlled by pedal
Built-in speed thermal printer
       A-Scan :
10MHz Frequency Probe.
Axial Length: 14.0-46.0mm.
Clinical Accuracy: <0.1mm.
Six IOL Formulas Available.
10MHz import small size probe, built-in luminotron.
Measuring range: 15mm-40mm.
Precision: ±0. 05mm; with macula lutea trace function.
Measurement: Anterior chamber depth, lens thickness, vitreous body length, total length and average.
Method of measurement: immersion and contact.
Eye mode: Phakic/ Aphakic/Dense/ various IOL.
IOL formula: SRK-II,SRK-T,BINKHORST- Ⅱ,HOLLADAY,HOFFER-Q,HAIGIS.
Enter the name & ID; easy to check archive.
Storage: 10 cases, 5 readings each case.
Output: A scan waveform and IOL calculation sheet.
        Pachymeter :
125-1000 microns Range.
Clinical Accuracy: <10microns.
Frequency: 20MHZ, angle of 45 degrees makes easier operation.
Resolution: 5um.
Measuring range: 150um~1500um.
Display: SINGLE mode and MAP mode.
Can display ultrasound waveform when measuring.
Each group is the average of 20 measurements.
Switch between IOP measured value and actual value.
Can input name, ID and operator's name.
Scan Result :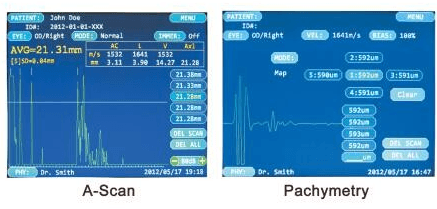 Additional information
Head Type

Ophthalmic A-Scan/ Pachymeter

Eye mode

Phakic/ Aphakic/Dense/ various IOL.

Frequency

A-Scan : 10MHz Frequency Probe
Pachymeter : 20MHZ

Resolution

5um.

Accuracy

A-Scan : <0.1mm
Pachymeter : <10microns

Measurement range

A-Scan : 15mm-40mm.
Pachymeter : 150um~1500um.

Applications

PICC Line Insertion, Thyroid, Breast, Vascular, Nerve, MSK (Musculoskeletal), IV intraveineous injection and plastic surgery, Joint Injections
Free Express Shipping Worldwide
Returns Policy
Returns Policy
>> Returns :
You have 7 calendar days to return an item from the date you received it.
To be eligible for a return, your item must be unused and in the same condition that you received it.
Your item must be in the original packaging.
Your item needs to have the receipt or proof of purchase.
Warranty
Warranty
Our Warranty covers defects in material, defects in workmanship under normal condition of use.
The product must be in its original packaging. Customer needs to ask for a Return Merchant Authorization (RMA) stating the exact technical issue and under which condition it did happen. Any documents or accessories that shipped with the product must be included in the package. Customer returns the package at his charge.
The company will repair the product, at no cost, once technical department confirms the defect happens under normal condition of use.  The company will repair any broken parts of a product using new or replacement parts. The product can be exchanged with a new product. The company ships back the fixed or new item for Free, back to customer.
The Warranty Period for Physical Goods is 15 Months from the date of purchase.
> Warranty does not cover :
Damage of a product resulting from:
– Negligence
– Unauthorized modification of the product
– Natural disaster
– Theft or loss of the product
Product Attachment
Please Login To Download Attachment